MOZA Racing RS V2 Leather-wrapped GT Steering Wheel
Regular price
Sale price
$473.00
Unit price
per
Sale
Sold out
---
Meet the second generation of the MOZA Racing RS DD wheel with classic GT steering wheel design. Like the first RS wheel, the V2 is a no cost spared wheel with genuine leather-wrapped wheel rim, brushed aluminum wheel frame, and forged carbon fibre button plate and wheel plate. The V2 takes it one step further and takes feedback MOZA learned from the community to improve the wheel.
Key Features
Brushed Aluminum Wheel Frame
Forged carbon fibre button plate
Genuine Stitched Leather wrapped rim
Magnetic paddles with photoelectric sensors
12 Programmable LED backlit buttons including 2 dual function as joy sticks + rotary knobs/encoders
Customized quick release

RGB shift indicator light
Wireless wheel compatible with all MOZA Racing DD Wheel bases
Wired compatibility with QR
Forged Carbon Fibre Button Plate & Shifter Paddles
The wheel's frame is made of a high intensity forged carbon fiber. A 5mm thick frame ensures there is no wheel flex. Milled using a CNC machine to guarantee toughness and durability.
Programmable Buttons & RGB Shift Light
Manage complex operations with 15 total programmable inputs, including 2 universal joysticks and 2 twenty segment knobs. When pressed the buttons have a satisfying and tactile mechanical movement. Even with gloves on button, button presses are clearly felt. On either side of the steering wheel is a 20-segment knob.
The sequential shifter has 7 adjustable colors. Drivers can customize the light up speed, the colours, and more.
Dual Clutch Magnetic Shifter Paddles
The contactless photoelectric sensor technology makes the paddles extremely reliable. Efficiently perform a dual clutch start and avoid powertrain damage caused by shifting errors.
Customized Quick Release
Switch the RS wheel in split seconds. The RS wheel uses a quick-release system derived from the steering wheel systems of real race cars. Ensuring a stable connection between the wheel and the wheel base.
Ergonomic Design
The hand grips on the GT wheel offer the driver a comfortable but firm grip, allowing the driver to maintain perfect control even against the strong force feedback of the strongest MOZA Racing Wheel (R21 with 21 Nm torque). From the thumb knobs to the shifter paddles, to the clutch paddles, all buttons are ergonomically positioned for quick access.
Contents:
RS V2 Steering Wheel
Dust Bag
Allen Key
4 x 8mm Aluminium Heightening Blocks
8 x M3X14 Screws
4 x Silencer Pads
Compatible Products:
Moza Racing GS Formula Steering Wheel Specs
| | |
| --- | --- |
| Wheel Material | Genuine Leather |
| Frame material | Brushed Aluminum Alloy |
| Button Plate Material | Forged Carbon Fiber |
| Face Plate | Forged Carbon Fiber |
| Paddles Material | 3mm Forged Carbon Fiber |
| Paddles Magnet | Gold-plated N52 Magnet |
| Size | 325 mm (13 inch) |
| Magnetic Paddles Quantity | 4 |
| Programmable Buttons | 10 |
| 20-segment Knob (Can be Pressed) | 2 |
| Universal Rocker (Can be Pressed) | 2 |
| Racing Horn | 1 |
| Highlight LED RGB lamp | 10 |
| LED Colours | 7 Configurable |
| Smart Telemetry | Supported |
| Set Up the Lights Through the MOZA Pit House | Supported |
| The Light Changes Color with the Rotation | Supported |
| Connectivity | Wireless & Wired |
| Power Supply | Wireless & Wired |
| Signal transmission | Wireless & Wired |
| Magnetic Paddles Induction Method | Photoelectric Contactless |
| Magnetic Paddles Mode | Dual-clutch/Single-Clutch/Switch |
Pricey (for me) but very nice
I'm glad I got it, not complaints and feels great.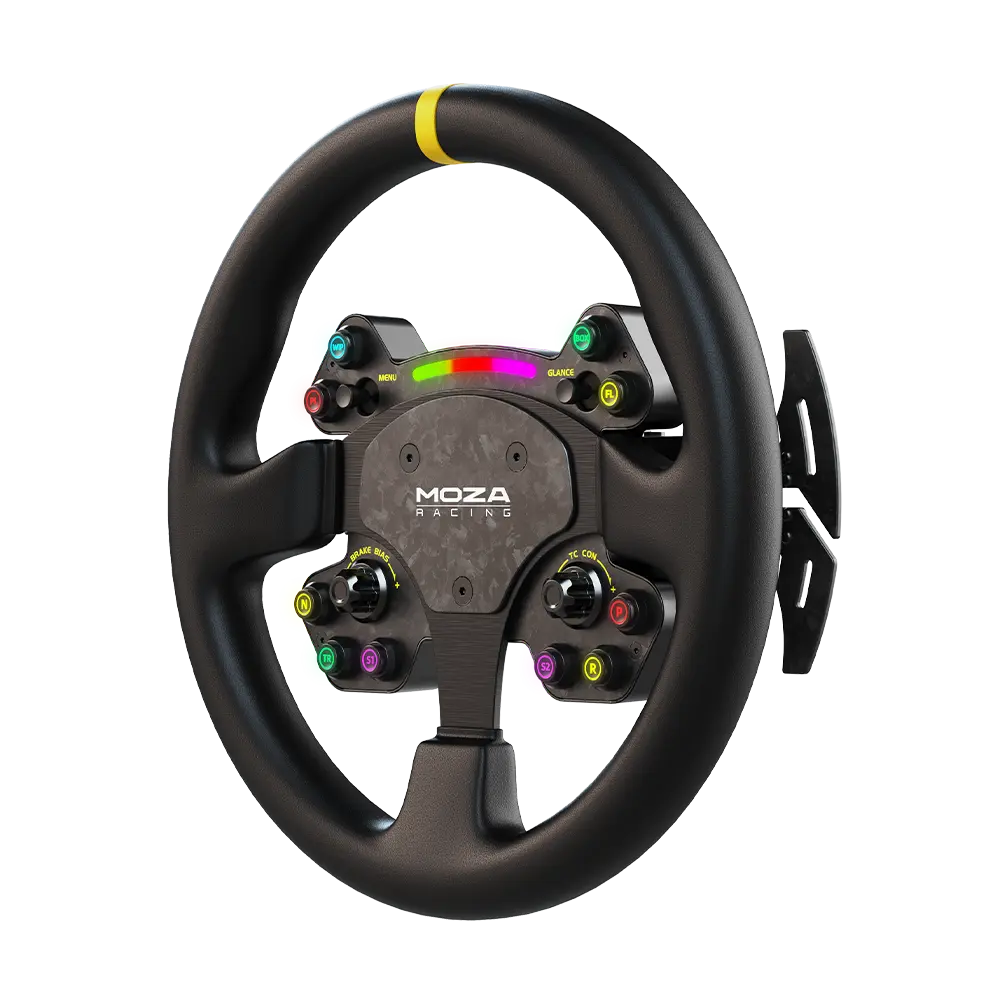 Pricey (for me) but very nice
I'm glad I got it, not complaints and feels great.